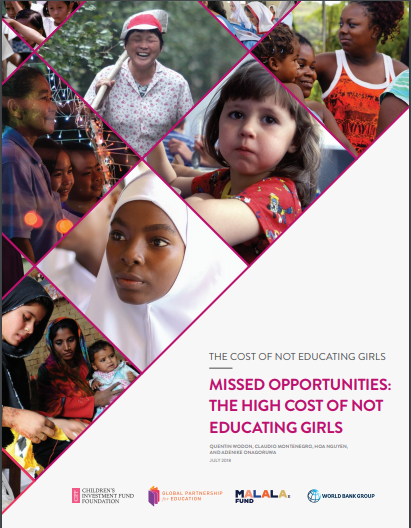 MISSED OPPORTUNITIES: THE HIGH COST OF NOT EDUCATING GIRLS
July 12, 2018
Globally 89% of girls complete primary education, but only 77% complete lower secondary education, which in most countries is 9 years of schooling. In low income countries, the numbers drop to below 2/3 for primary education, and only 1/3 for lower secondary school.
The report says that limited educational opportunities for girls and barriers to completing 12 years of education cost countries between $15 trillion and $30 trillion dollars in lost lifetime productivity and earnings. The report finds out that primary education is not enough. Across many indicators, benefits from primary education only are limited.
The report estimates the global impact of depriving girls of education. Its findings show the transformative power of education for girls in six areas: (1) earnings and standards of living, (2) child marriage and early childbearing, (3) fertility and population growth, (4) health, nutrition and well-being, (5) agency and decision-making, and (6) social capital and institutions.